Hi Friends!
If you're a longtime reader, you'll know that although I used to participate in the ever-popular What I Ate Wednesday (WIAW) blogland trend, I stopped several years ago. I stopped for my own personal reasons, the main one being that I prefer my Weekly Eats posts where I can share a larger variety of my eats with you guys.
However, I do still get requests to share what I eat on a daily basis…and it just so happens that there's currently a fun little version of WIAW going around among my fellow Registered Dietitians and I've been asked several times (by Kristina, Anne & Kara) to participate, so here I am!
Side note- I realize today is Tuesday, not Wednesday, but I have a Recipe Redux post scheduled for tomorrow, so I bumped my post up to today.
So, here's a look at what I ate yesterday. As always, please remember that nutrition is individual and what works for me may not be best for you.
———-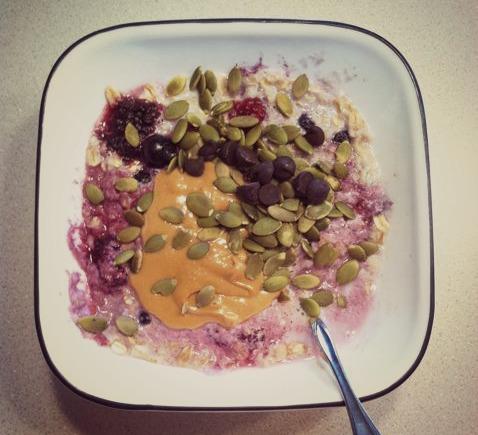 Breakfast – 8AM
Rolled oats + 2% milk + frozen berries microwaved for 2 and a half minutes, topped with peanut butter, pumpkin seeds and a few chocolate chips
Water to drink
This is what I eat pretty much every M-F and some weekends. Sometimes we go out to breakfast on the weekends, or I'll make eggs occasionally.  I prefer to top my oats with crunchy chocolate Nuttzo but I'm fresh out!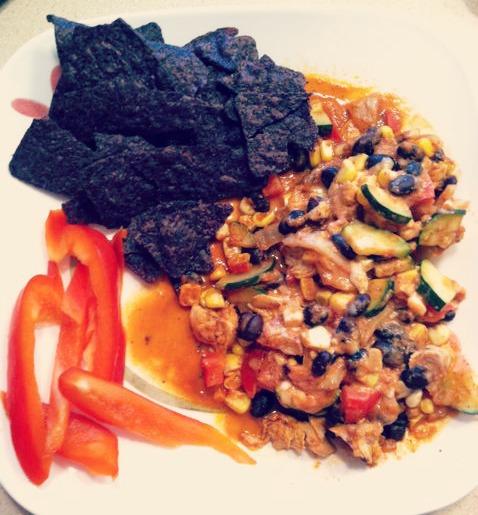 Lunch – 12PM
Mexican Enchilada Casserole + Garden of Eatin' Blue Corn Tortilla Chips + bell pepper strips + fruit bowl shared with hubby.
Water to drink
To make the casserole I combined chopped zucchini, peppers, onions, corn, black beans and cooked, diced chicken in a casserole dish. I added some shredded Cabot Cheese and mixed it all together. For the sauce I made 1/2 a batch of this homemade enchilada sauce and used half of it mixed with a few spoonfuls of plain Greek yogurt. I poured the sauce over everything, mixed it together and baked it at 375 for 30 min. For lunch I just reheated in the microwave.
Side note- I usually would have topped this with avocado…but pregnancy has been messing with my tastebuds and I don't crave it as often as I used to. Hopefully that's just temporary!
Sometimes I eat a morning snack but most mornings I'm just busy working through the morning and don't really get all that hungry until lunch.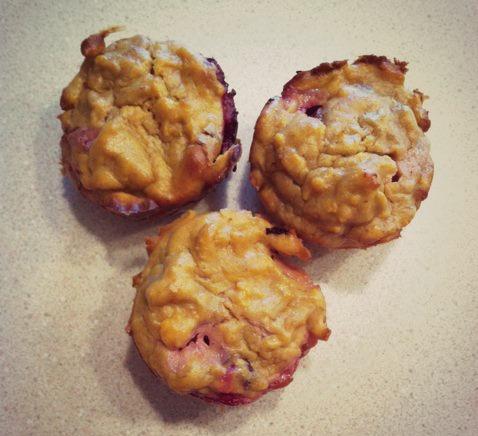 Snack #1 – 2:30PM
Some Sweet Potato Bites. I made this batch with fresh cranberries mixed in instead of chocolate chips.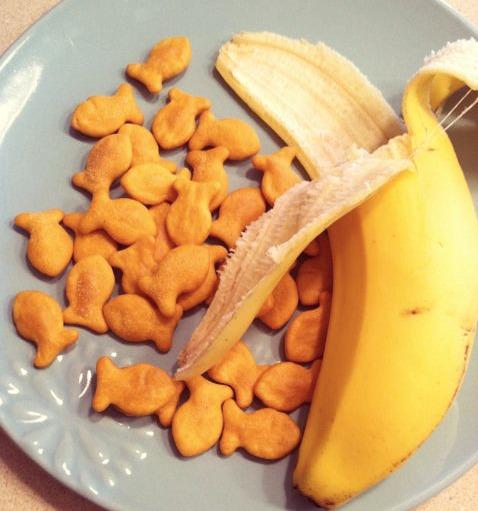 Snack #2 – Pre-workout fuel – 4:00PM
A handful of goldfish + half a banana (I usually split my bananas with Tucker.)
Plus water.
Then I walked the dogs 2 miles + did this workout in the garage. Typically when I workout, I go to Crossfit at either 4:30 or 5:30 but yesterday's class wasn't the best for a pregnant lady so I modified one of the workouts they did last week on one of my rest days so I could do it at home.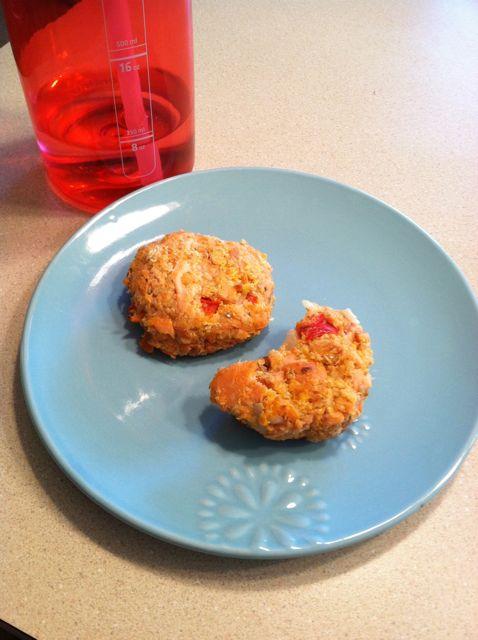 Snack #3- Post-workout refuel – 5:30PM
Salmon Sweet Potato Quinoa Cakes + allll the water
The salmon cakes are similar to this recipe for my Tuna Quinoa Cakes, except I used frozen salmon that I cooked & flaked instead of canned tuna, left out the yogurt and didn't really measure anything.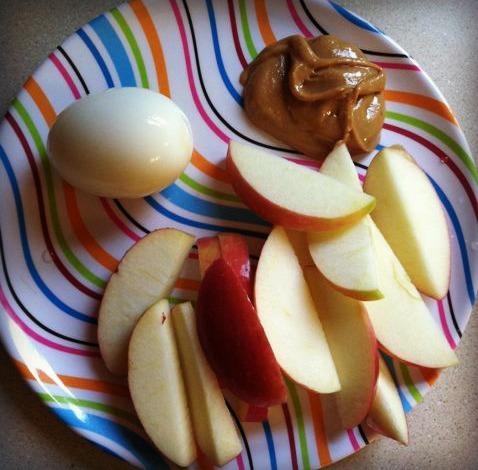 Snack #4 – 7:30 PM
Hard boiled egg + peanut butter + a small apple
After my workout I played with the dogs, took a shower, read for a while and took a short nap. When I woke up, hubby was mowing the lawn, but I was hungry so I ate. I only ended up eating about half the apple.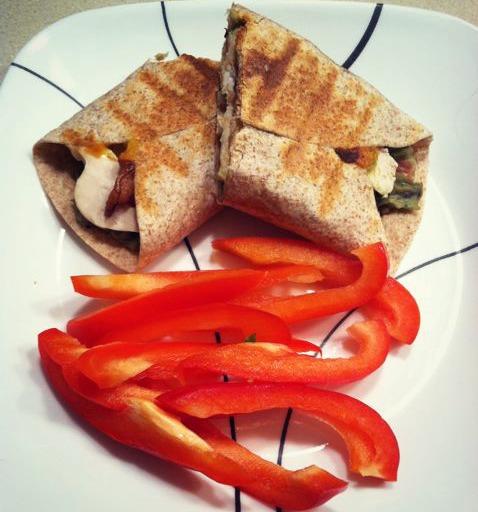 Dinner – 9:00 PM
Whole wheat tortilla + black bean guacamole + chicken + bacon + cheese and a side of peppers
Eating this late is not unusual for us. We typically eat dinner around 8:30 or 9.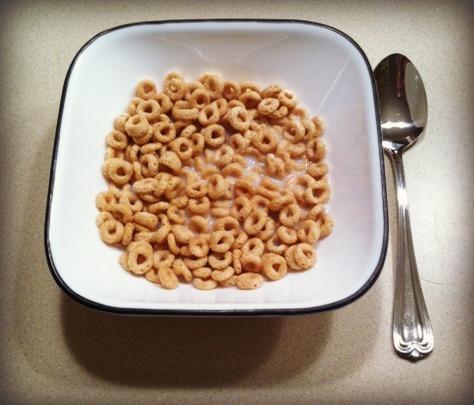 Snack #5 – Bedtime snack – 11:30 PM
Cheerios + skim milk
I hate going to bed hungry so I almost always eat something before I go to bed. If I don't, I'll wake up in the middle of the night absolutely starving!
 ———–
So there you have it! A full day of eats. For the record….I really wanted to get ice cream but it just got too late. Hubby promised it to me yesterday and then the day got away from us and we didn't get it then either. I WILL get some before the week is over 🙂
 ————–
The WIAW Dietitian Tag! #WIAWRD
This blog post is a part of a 'dietitian tag' to see what other registered dietitians from around the world really eat!
To carry on this tag all you need to do is:
1) Copy and paste this section to the bottom of your WIAW blog post.
2) Tweet/Facebook the link using the hashtag #WIAWRD (What I Ate Wednesday Registered Dietitian).
3) Add your blog post link into the section below.
4) 'Tag' 2-3 other dietitians to carry on the tag via email!
————–
I'm tagging Elle at According to Elle, Lauren at Whole Living Lauren and Christina at The Fueled Athlete.
Enjoy!
–Lindsay–